If you ask yourself "where can I sell my koi fish?", I have the answer. After checking out all the possible ways of selling koi fish, I have found 5 channels or websites that aquarists pick the most for purchasing and reselling their beautiful koi. I will also give you 5 tips on how to decide the price of your fish. You can check them out below.
5 Best Places – Where Can I Sell My Koi Fish?
There are 5 platforms that I want to introduce you: Aquabid, Fishlore, Reef2reef, My Fish Tank, and some Facebook groups.
Aquabid is a trusty favorite forum where hundreds and thousands of aquarists unite to sell or buy live fish. I like the platform because it has many different fish categories, including koi. You can quickly bid and own fish species like killifish, killifish eggs, deltas, catfish, loaches, etc. If you are a buyer, you can even see the seller's location through the flag icon next to his offer.
The quality and price of the fish are published for everyone to check and decide. Overall, I believe that this is the best place to sell koi if you have good to high-quality ones.
Another trustworthy platform is where you can publish information about your koi fish. The good thing about this website is that you can check how many people have messaged or exchanged information with buyers or sellers.
The problematic aspect is that this forum isn't designed specifically for commercial purposes. Users have to contact each other later via email or text to exchange shipping info.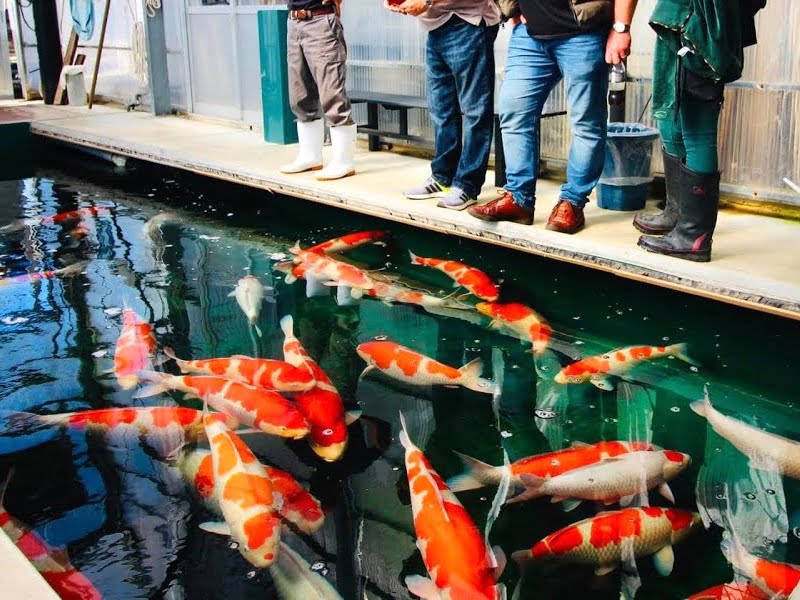 Reef2reef is another forum where you can exchange information and publish about your koi fish. Just like any other forum, you need to register your email for an account. Reef2reef and Fishlore are almost identical in usage.
My fish tank is My fish tank is divided into different topics and may require a bit of effort to publish your koi fish offer, but it's still a trustworthy platform where thousands of users unite to talk, buy, and sell live fish. You can obtain lots of exciting pieces of information here about taking care of fish and fish tanks.
Facebook Groups
This option is not for sellers. I recommend Facebook groups for hobbyists who don't want to resale their koi. Instead, this is a great way to rehouse your pets. Facebook has tons of groups, but they don't allow selling within the group to avoid troubles with the social media taking their group off the platform.
If you don't want to go through the trouble of convincing the customers about the quality of the fish or shipping services, simply go to a group and tell the people that you want your fish to have a new home. For example, you can check out FISH TANK AQUARIUMS.
How To Decide The Price Of My Koi Fish
For me, there are 5 aspects that you have to consider in order to decide the price of your koi fish.
Size And Growth Stage
There is no doubt that an adult koi of impressive size is more expensive than a young one, given that the breeder or farmer has had to take care of the fish for a long time for it to grow to such a nice stage. Most will take care of the fish for 2 to 5 years before releasing them to the market, and these fish usually are healthy and have beautiful vibrant colors.
If your koi fish is healthy, has vibrant colors, and has been living with you for a long time, you can easily sell them at a high price.
Color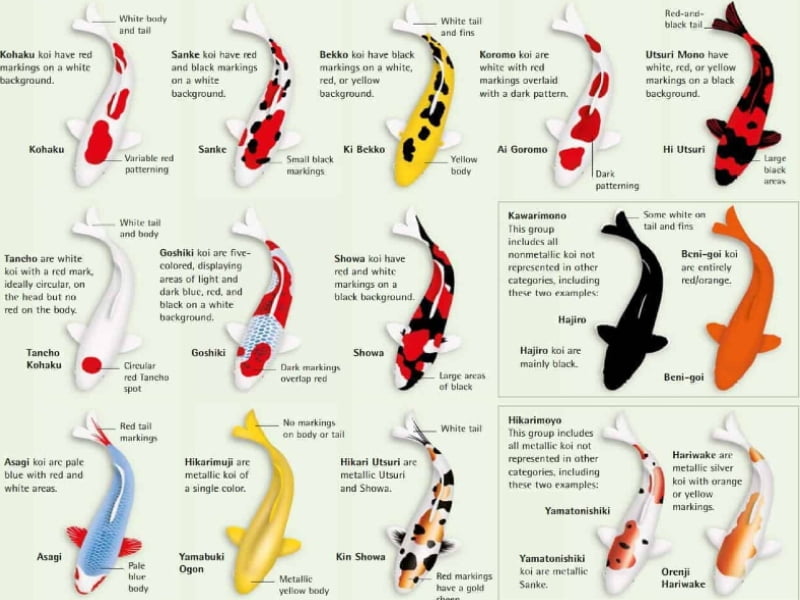 Most koi come in white, black, and orange. Depending on each fish, the color of the bodies and the specs can vary a lot. In general, there is no doubt that the fish with the most crips and vibrant colors are the most expensive ones. It's easy to encounter koi fish that don't have a good color variation on the market. Some don't even have specs in different colors, making them look more like big goldfish.
The more colorful and crisp your koi look, the higher value it owns. If your koi has a pure white body with small specs of orange or black on its body or head, this one will sell well, especially if the specs have a thin layer of metallic tone to them.
Health Condition
It's undeniable that healthy fish sell better than sick ones. You should check the gills and scales of your koi to make sure that parasites don't contaminate them. Also, check the fish's swimming pattern to see if its fins and body are still in good condition.
Breed
Some breeds are more expensive than others. Kohaku, Gin Rin, Tancho, etc., are some of the most expensive koi, and there are over a hundred breeds. Knowing your koi's breed will help you decide the price of the fish.
Preference Of Your Potential Regions
In Asia or Japan, shortfin koi are more expensive due to the general belief of the public that longfin koi aren't pure breed. In other words, longfin koi are considered a mutated industrial product.
However, in North America or Europe, people prefer longfin koi since the fins look flowier and resemble the wings of dragonflies. Thus, the koi seem more elegant and light. It all depends on the preference of each region.
Video: $100,000 Japanese Koi Fish!! – How To BUY & Invest! 💰
FAQs
Where can I sell my koi fish?
If you want to sell your koi fish, you can check out Aquabid, Fishlore, Reef2reef, My Fish Tank, or other fish forums. Don't try to sell anything on Facebook because this can violate their terms and conditions. Most Facebook groups about live fish allow fish rehousing only. Attempting to sell them will give you trouble.
Should I ship koi fish to customers?
Koi fish may or may not survive during a long shipping period, especially bigger ones. Koi need a lot of oxygen and clean water condition to live healthily. Therefore, it's best to avoid long shipping. If you can ship the fish overnight or do it yourself within the local, the koi will have a higher chance of surviving.
How much can I sell a koi fish for?
A koi fish can cost anywhere between 5 to over 5000$. It depends on many factors like fin shape, color, health, or breed.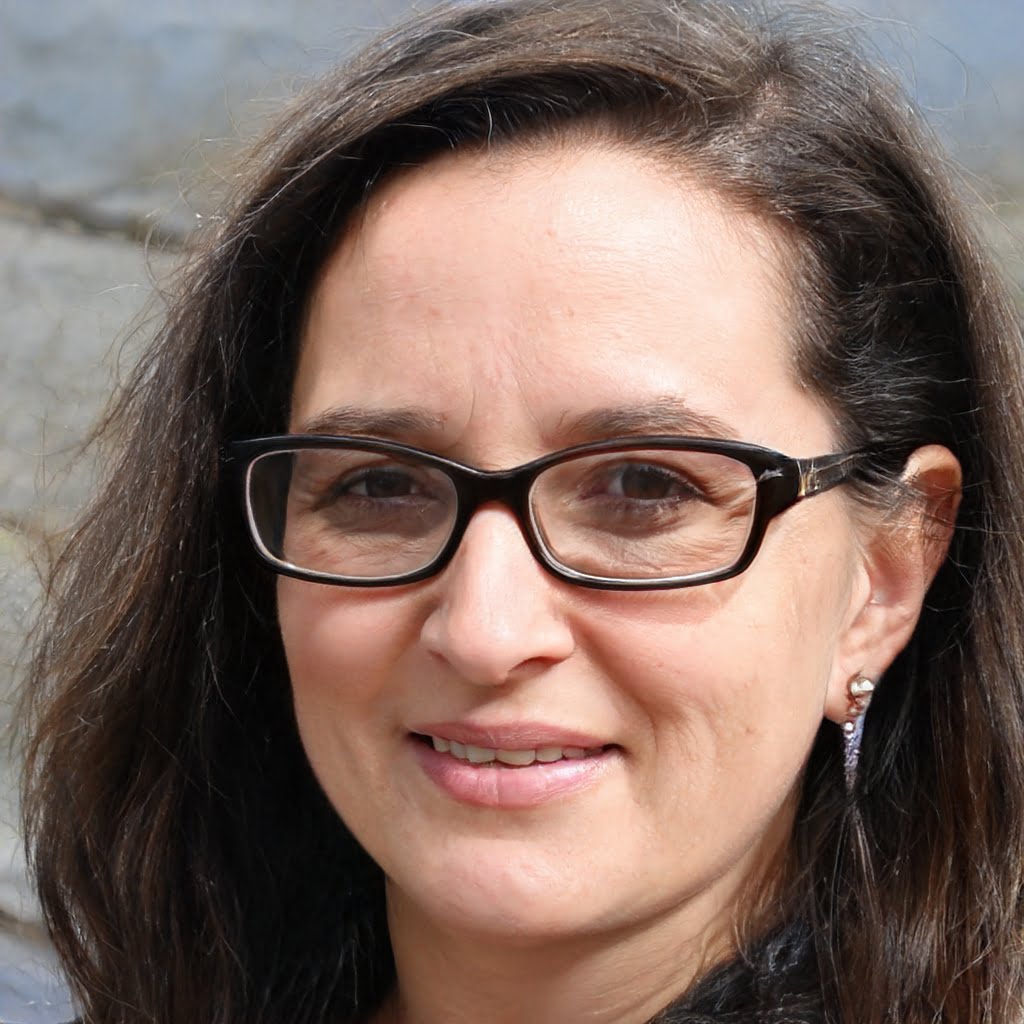 Annette M. Chaney is an experienced marine biologist with over 20 years of experience as an aquarist and fishkeeper. She started her first aquarium at a young age, filling it with frogs and goldfish obtained from the ten-cent pet store.
Annette grew up caring for and breeding African Cichlids, which led to a hobby in high school that doubled as a profitable means. Attending Reed College gave her time to solidify herself as an accomplished aquarium caretaker with an eye for sales. After that, from 2009 – 2013, she studied at Roger Williams University – one of the most prestigious universities for Aquaculture and Aquarium in USA. She is the founder of AquariumCircle since 2010.