West Africa is known worldwide for its rainforests and rich biodiversity. With its ideal environment, the vast variety of Killifish has thrived, and this process appears to be continuing, though the effect of humans has caused many dangers.
We bring you this article in the hope that it will increase awareness of these handsome West African Killifish and that their beauty will be appreciated more and more.
Introduce Some Species Of West African Killifish
Aphyosemion Cryptum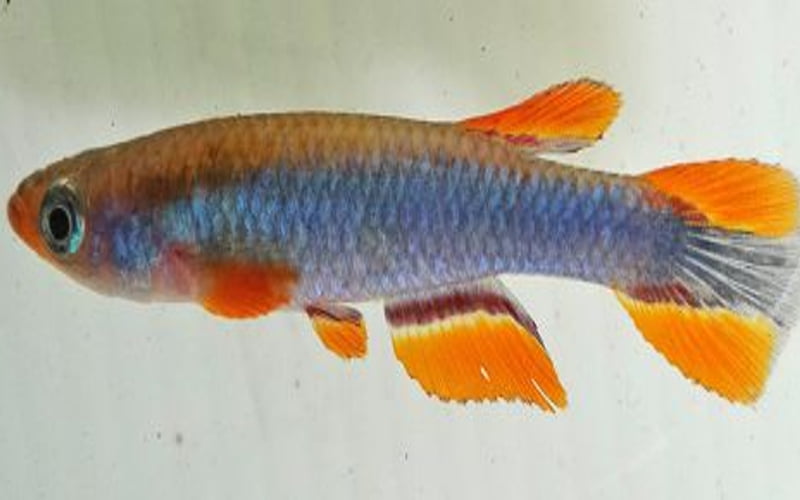 Familia: Nothobranchiidae
Genus: Aphyosemion
A subtropical type of Killifish can live both in the freshwater ecosystem and pelagic environment.
This species is known from the shallow sections of small tributaries of the upper Louessé and Mandoro rivers in the Republic of the Congo's southern Massif du Chaillu.
Males can reach 4.0 cm long, while females are 3.9 cm. The difference seems not too obvious here, but the gorgeous color of males surely surprises you.
Males are identified by their distinctive coloration, which includes a light blue body with a few red markings on the flanks and caudal peduncle; yellow to orange on the distal part of unpaired fins; the blue base of dorsal and anal fins distally followed by a red band; two parallel or converging red lines along the blue center of caudal fin; and a narrow white line between the red band and yellow to orange distal parts.
They are differentiated by the absence of a green or yellow iridescent blotch posterior to the operculum and the absence or reduction of rows of red spots to a few irregular spots.

Aphyosemion Mandoroense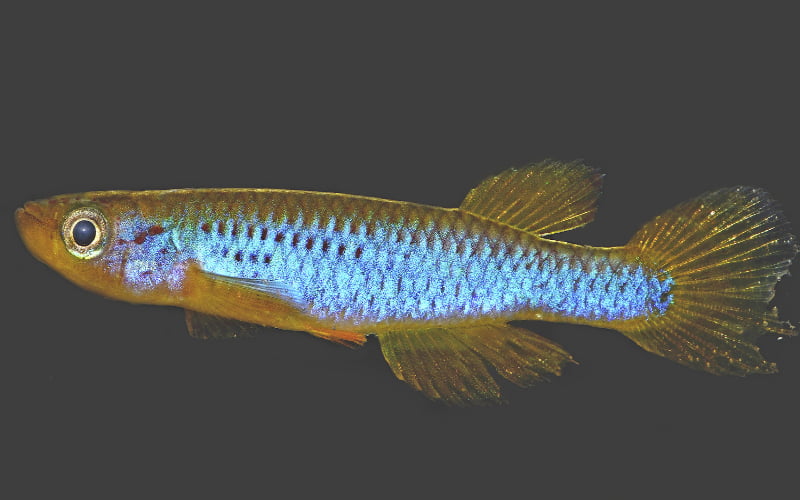 Familia: Nothobranchiidae
Genus: Aphyosemion Myers
This is another member of Mandoro River in the Republic of the Congo and has the same ideal environment as Aphyosemion Cryptum: enjoy a subtropical climate.
The body size of males and females is about 3.7-3.8 cm. This species is distinguished from all other Aphyosemion s.l. species by the absence of red pigmentation on its fins, except for the posterior margin of the dorsal fin in some individuals, and by the nearly complete absence of red pigmentation on unpaired fins. The next unique feature is its dark grey to black unpaired fin margins and nearly complete lack of red in fins; it has a blue side with three to four rows of red dots on the anterior side and differs from those with a more brownish to orange coloration.

Aphyosemion Pamaense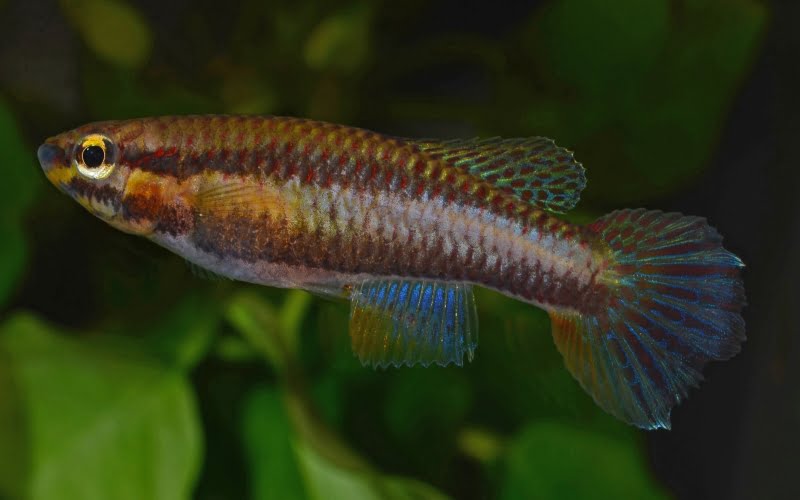 This species is first introduced in 2013 and successfully attracted many breeders with its beauty. This is a member of Nothobranchiidae and belongs to the subgenus Chromaphyosemion Radda, 1971.
It inhabits a small stream in the forest, about 3 m wide and 0.4 m deep with a muddy or sandy bottom. May because of that, the Pama River, a small tributary of the Nyong, in the surroundings of Pama, Cameroon become suitable for them to live.
This species is slightly smaller than the two above. The body size of both males and females is 3.0 cm. The presence of two dark lateral bands in both sexes, though these bands may disappear in males depending on the fish's mood. Isn't it true that this fact excites you?
Males have pronounced dorsal and ventral streamers on the caudal fin; streamers are also present on the dorsal and anal fins; the species also has 9-14 dorsal rays and 11-16 anal rays. It is distinguished from all other Chromaphyosemion species by the related intellectual male characteristics: orange background of unpaired fins, anal without spots, orange throat, and purple to blue-grey flanks.

Aphyosemion Maeseni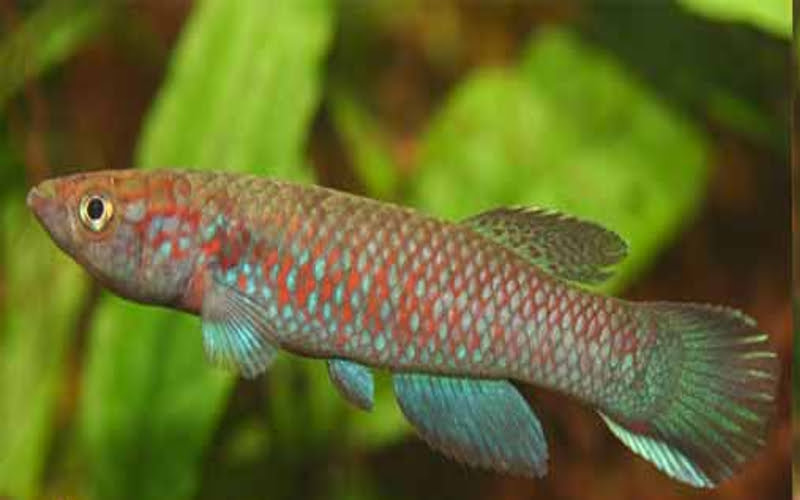 Belonging to the Nothobranchiidae family, its genus is Epiplatys, and a native of the northwestern Ivory Coast. They're also a benthopelagic type of fish and enjoy the water hardness from 4dH to 12 dH. The nature temperature range for them is between 20°C and 24°C. They occur in brooks, pools, and small streams in the forested savanna, so take a trip there if you have an occasion. Aphyosemion Maeseni is non-annual Killifish and it's a pity to say that needs big patience to maintain in the aquarium environment.
When fully grown to be an adult, they reach 3.7 cm long. They have a hefty and rounded shape. When viewed from the ventral side, the opercle boundaries are narrowest just behind the level of the eyes, and they broaden anteriorly as they approach the lower jaw. This creature has brownish, unpaired fins when it is euthanized. The fins are darker brown, with no yellowish or light border; there are no signs of color pattern apparent.

Fundulopanchax Gardneri Nigerianus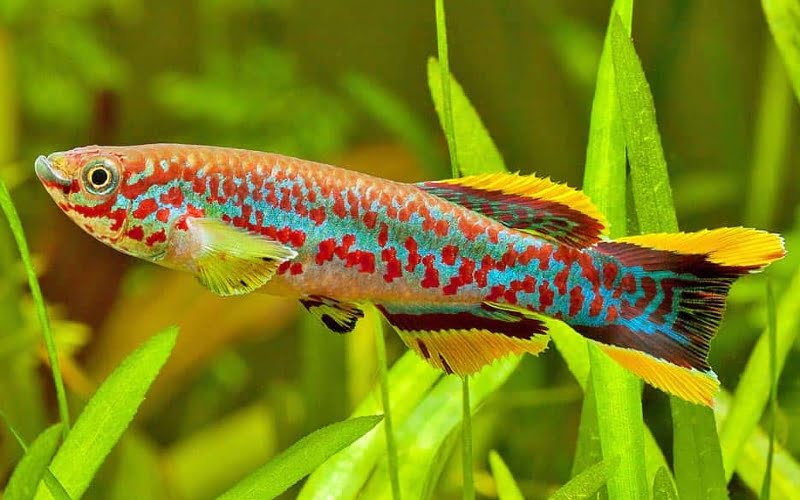 Steel Blue Aphyosemion is their common name, and some breeders have success in raising them in aquariums. So, this may the only aquarium Killifish on this list today. They are endemic to the Cross River system in southern Nigeria and western Cameroon and the Benue River drainage in central Nigeria. They are classified as Cyprinodontiformes and belong to the Nothobranchiidae family.
When fully grown, they measure between 5 and 5.5 centimeters in length. Males are generally more vivid. They have yellow sections in their fin and are colored red along with the rest of their body. Females, on the other hand, are typically bland in comparison.
Steel Blue Aphyosemion breeding is not difficult. The recommended water temperature range is 20–26 °C, and the pH should be kept between 6.0 and 7.5. The ideal water hardness ranges between 4 and 12 dH. Steel Blues appear to be adaptable to a broad variety of water conditions as long as the overall quality of the water is acceptable.
The Endangerment Of West African Killifish
Because of the large amount of West African Killifish, we can only show you the 5 most fantastic species here.
Not only the 5 species that are mentioned and described, but many West African Killifish out there have also been in danger. The disappeared process from their natural habitat is still continuing. Fundulopanchax walkeri, Nothobranchius fuscotaeniatus, or Epiplatys coccinatus are some representative names.
Deforestation and climate change are the most popular threats. Overfishing is also a big problem for West African Killifish in specific. If these serious problems can't be stopped by now, the future that all biodiversity would be disappeared is no further.
Video: See How African Killifish Change Embryos To Survive
FAQs
Are killifish for beginners?
It's based on what species of Killifish you want. Don't hesitate because Killifish can live in a wide range of habitats. Most Killifish in aquarium stores are easy for beginners, except for some special species in the wild.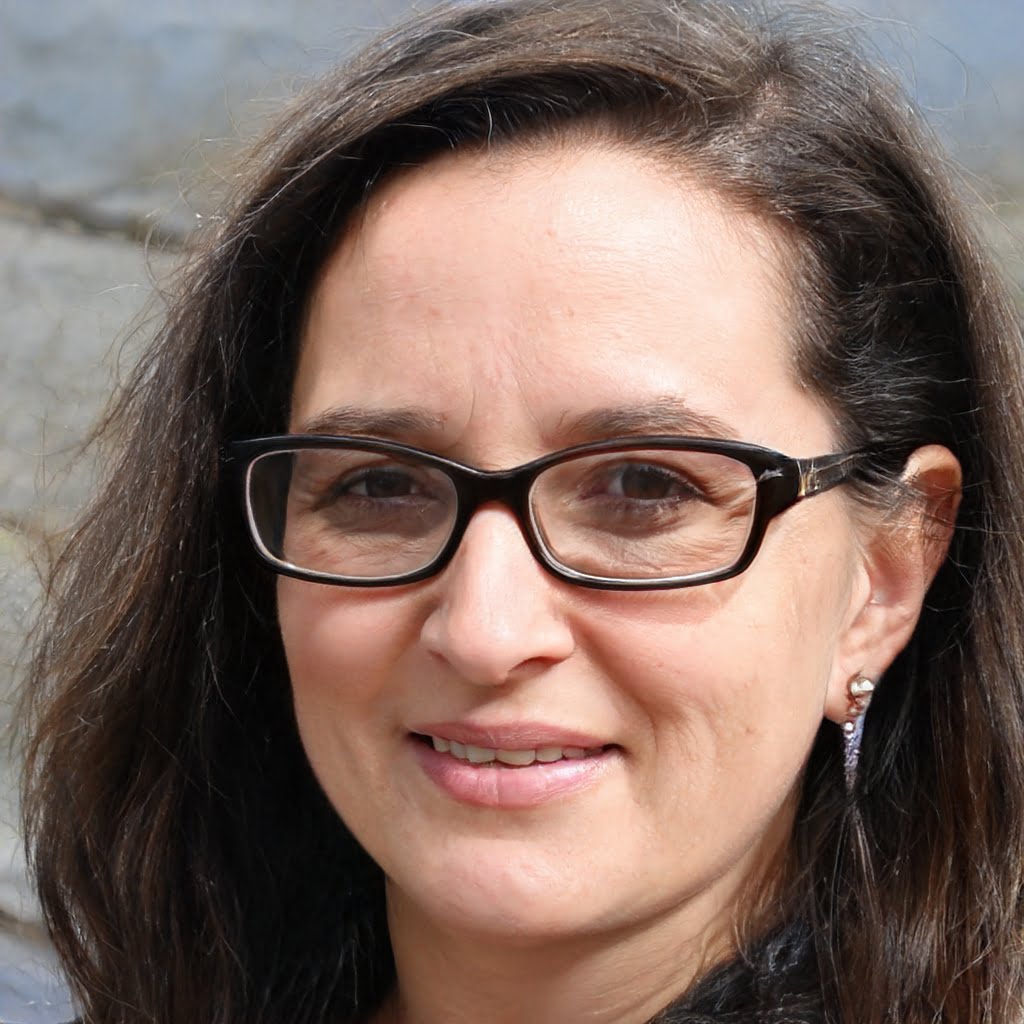 Annette M. Chaney is an experienced marine biologist with over 20 years of experience as an aquarist and fishkeeper. She started her first aquarium at a young age, filling it with frogs and goldfish obtained from the ten-cent pet store.
Annette grew up caring for and breeding African Cichlids, which led to a hobby in high school that doubled as a profitable means. Attending Reed College gave her time to solidify herself as an accomplished aquarium caretaker with an eye for sales. After that, from 2009 – 2013, she studied at Roger Williams University – one of the most prestigious universities for Aquaculture and Aquarium in USA. She is the founder of AquariumCircle since 2010.