What are the most sought-after rare swordtail fish breeds? Let me introduce you to 5 most majestic ones that only the pro aquarists know and are daring enough to keep. I will also give you some advice on how to take care of a swordtail. To many's surprise, keeping rare swordtails isn't as complex as rocket science. So if this is your first time caring for a rare swordtail, I believe you will do fine with extra tips and care. Let's get started!
5 Rare Swordtail Fish Breeds
Kohaku Swordtail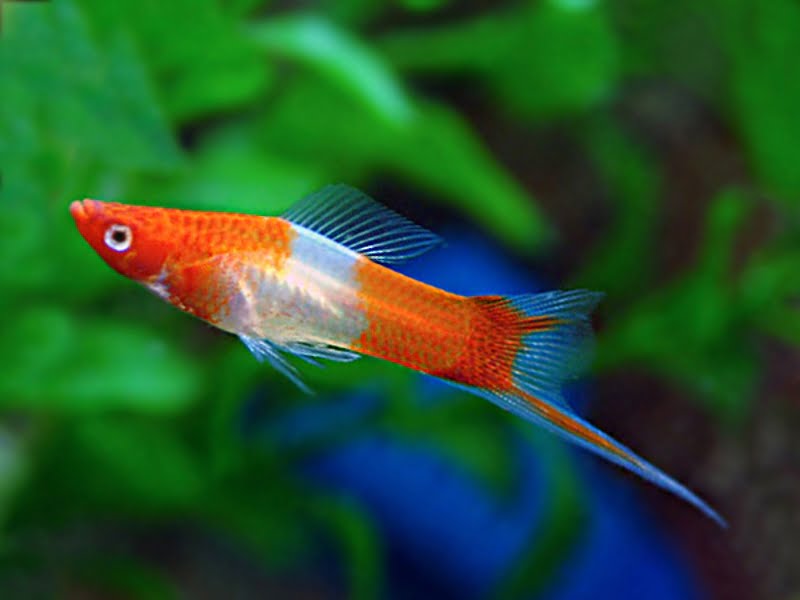 Kohaku or Koi swordtails are famous for their color pattern, which resembles a Japanese Koi fish with a white body and orange patterns. What makes this breed desirable is that its white body is transparent, highlighting the orange and gold specks vividly. If you want to keep your aquarium bright and vibrant, this breed is a wonderful pick.
The good thing is that this breed is rare but not too rare. So it shouldn't be too complicated to get your hands on one. You can check out PetCo or Aqua Imports for a Kohaku swordtail.
Dalmatian Swordtail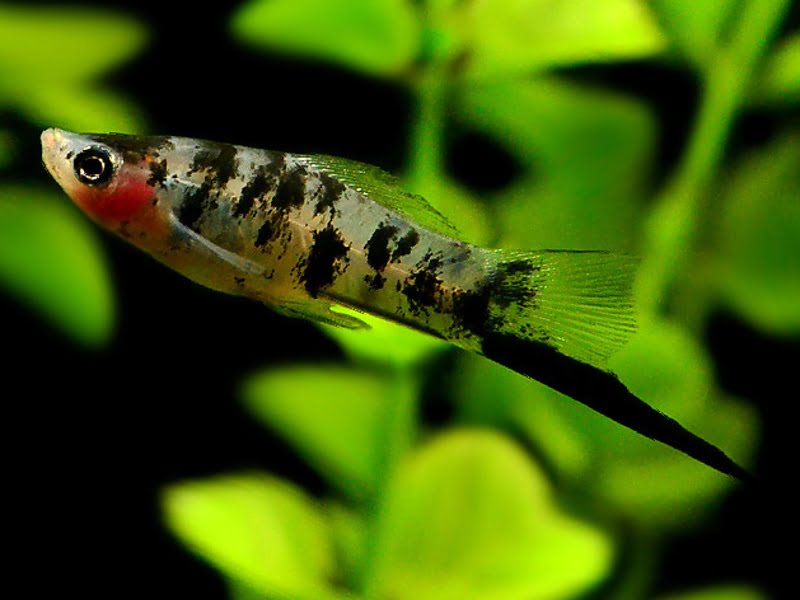 From its name, you can already tell the appearance and uniqueness of this breed. Dalmatian swordtails also have a slightly transparent body color, and painted over them are small to large specks of black color. This one is tough to get and can't be found in general pet stores.
Black Hamburg Swordtail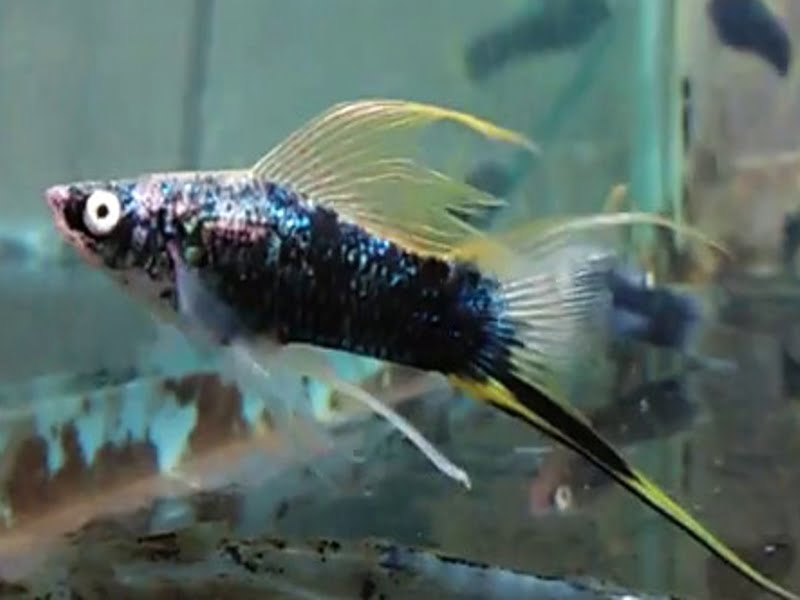 By far, this is the most majestic-looking breed of swordtail for me. A black Hamburg swordtail has an entirely black body with golden specks on its back and underbelly and caudal and dorsal fins. More or less, the species looks like darkness with its figure highlighted in gold. There is nothing more majestic than that, and I haven't seen one with my own eyes in ages.
Hi-Fin Albino Red Swordtail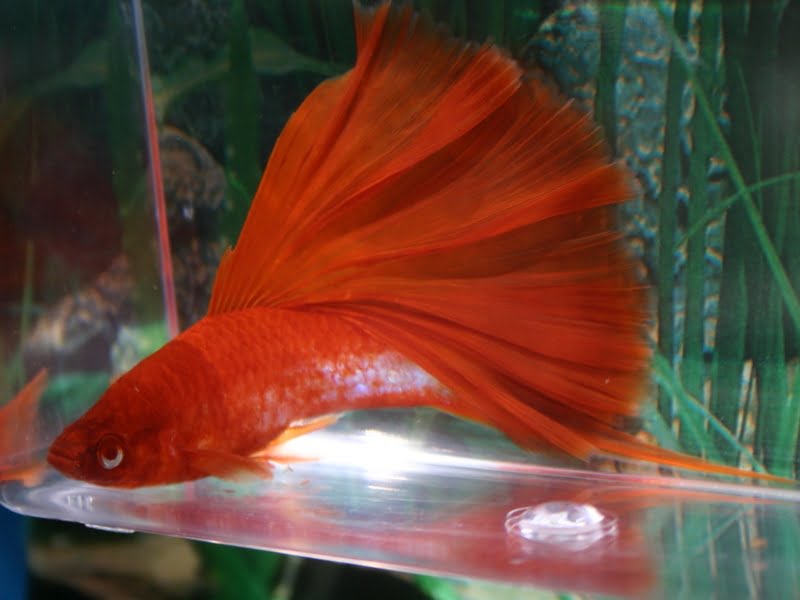 Expensive and hard to get, hi-fin albino red swordtail is an absolute beauty. This breed grows up to 3 inches, and its dorsal fin is a show stopper. It's very flowy underwater and is extensive. The dorsal fin can grow even as big as the swordtail. Also, its entire body is covered in an orange and blood-red tone. Hi-fin albino red swordtail is a magnificent sight.
Hi-Fin Pineapple Albino Swordtail
This species looks very similar to the one above. But instead of a fully orange and blood-red body, a hi-fin pineapple albino swordtail boasts of an iridescent white body with a light-orange back and dorsal fin. It's not easy to encounter one of this breed.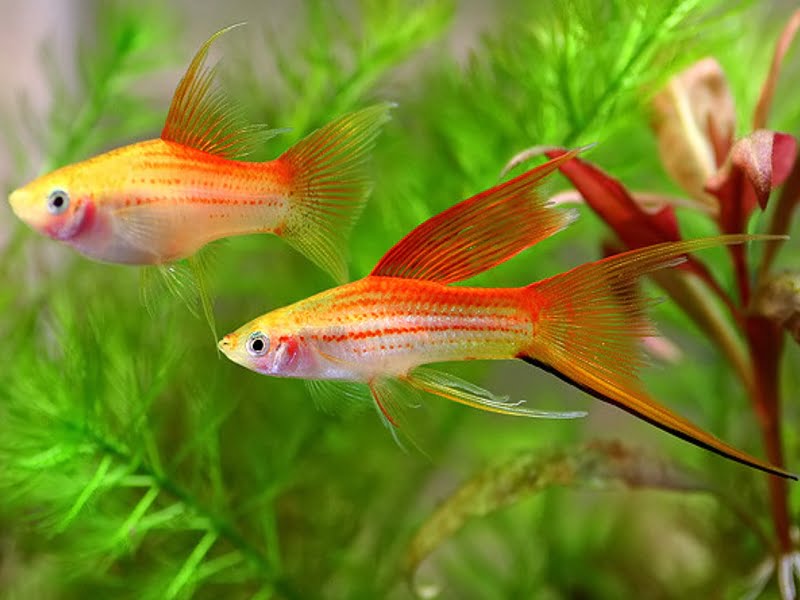 Rare Swordtail Fish: Habitat And Care
How do we take care of rare swordtail fish? It's pretty much similar to taking care of the ordinary kind. I will specify the living conditions and care guide for swordtail below.
Male To Female Ratio
Male swordtails can be pretty fierce when they want to mate, and if both males and females are within the aquarium, it's impossible to keep them from reproducing. If there are too many males compared to females, the males will turn aggressive at their male companions to claim dominance.
In this instance, it's recommended to keep a safe ratio of males to females to reduce threats and aggression for other fish. It is advised that the ratio be 1 male: 3 females. Also, it's best to separate the mother from the tank and put her in a separate tank before she gives birth. Male swordtails will want to mate constantly, which can cause stress for the females.
Diet
The diet of swordtails is similar even though there are different breeds. You can feed a rare swordtail the same food that you give to a common one, but it's best to ensure that the quality of the food is high to avoid negative possibilities. It's best to feed them both vegetables and live food, such as lettuce, brine shrimps, daphina, flake food, etc.
Tank Size
A male adult swordtail is about 5.5 inches, and female swordtails are about 7 inches long. This species is considered significant among the community fishes, so it's not surprising that they need ample living space to develop fully and comfortably.
A 15-gallon tank is a perfect size for just one swordtail. If you're looking to keep a school of swordtail, it is best to get a 30-gallon aquarium or a bigger one. Also, it's essential to consider the space that decorations and greens take.
Hiding Spot
I find it crucial to provide hiding places for swordtails because even though this species is relatively peaceful and doesn't cause a stir on a daily basis, they can still get violent during the mating process. That's why having the same decorations and plants inside the tank is beneficial. They will work as hiding places for weaker or smaller fish.
You can also remove the aggressor from the tank for him to calm down, but protecting other swordtails, especially rare ones, takes more initiative. We can't keep an eye on them all day long, so it's advisable to have decorations in the water body.
Water Temperature And pH Level
Swordtails are tropical fish, and they live at 64 to 81 degrees F. They are freshwater fish, so you should keep them with other species that handle freshwater environments or keep swordtails only. The ideal pH level for swordtails is around 7.0-8.5. If the pH level within the tank isn't correct, make sure that you remove the fish from the tank and adjust gradually to avoid "shocking" your fish. They will need time to adapt to new changes in the environment, even though they are good.
Video: Best Top 10 Most Beautiful Swordtail Fish – Amazing Rare Swordtail fish, Platy fish
FAQS
Are Dalmatian swordtails rare?
Yes, Dalmatian swordtails are quite rare, and it's hard to encounter them in most common stores, which explains their high price. To find a male Dalmatian swordtail with pronounced caudal fin, hobbyists should take a look at specialized exotic fish shops.
Will a swordtail breed with a platy?
Yes, because swordtails and platies are part of the same family called Xephophorus. They can create healthy offspring without requiring intervention from owners. All you have to do is keep them in the same tank, and they will reproduce independently.
What is the lifespan of a swordtail?
A healthy swordtail can live up to 5 years. With an ideal living condition and a nutritious diet, most swordtails live around 3-4 years on average. Some aquarists have spotted ones that live longer, but it's scarce.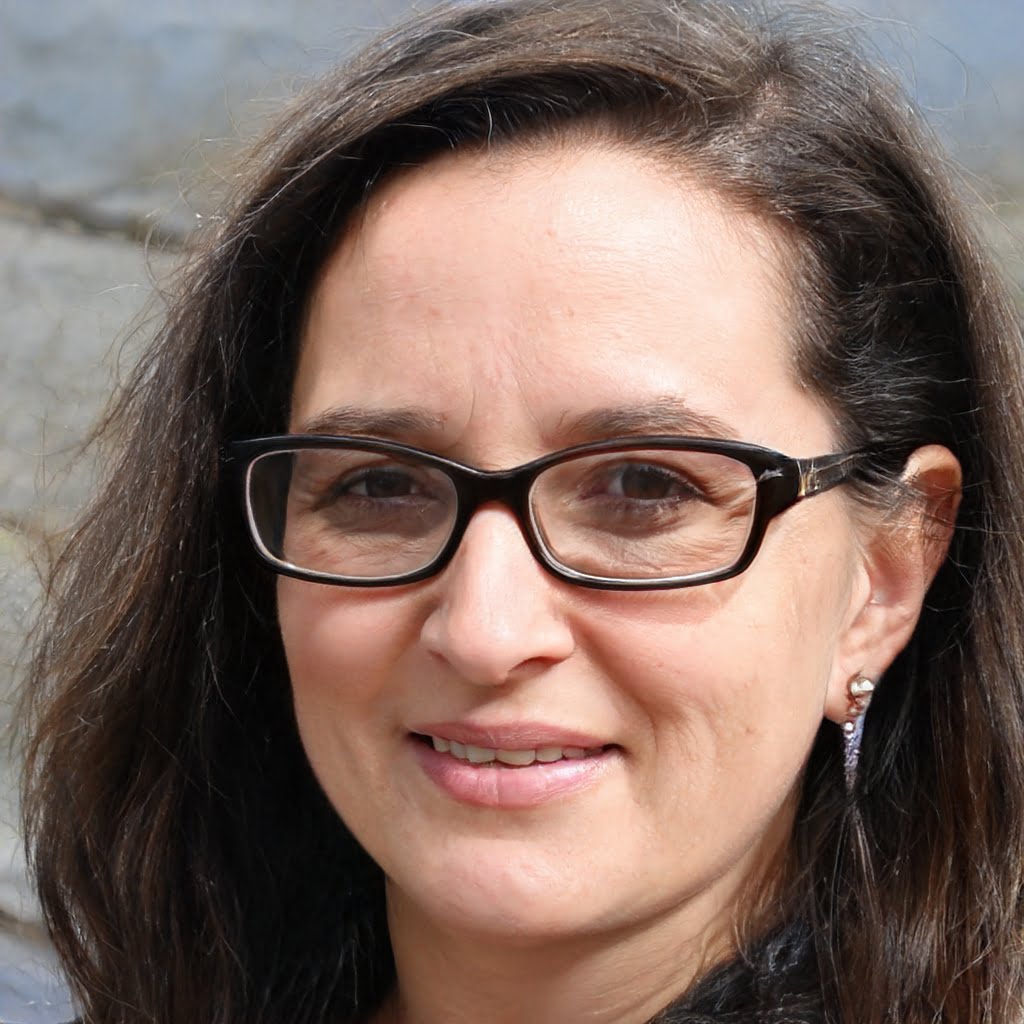 Annette M. Chaney is an experienced marine biologist with over 20 years of experience as an aquarist and fishkeeper. She started her first aquarium at a young age, filling it with frogs and goldfish obtained from the ten-cent pet store.
Annette grew up caring for and breeding African Cichlids, which led to a hobby in high school that doubled as a profitable means. Attending Reed College gave her time to solidify herself as an accomplished aquarium caretaker with an eye for sales. After that, from 2009 – 2013, she studied at Roger Williams University – one of the most prestigious universities for Aquaculture and Aquarium in USA. She is the founder of AquariumCircle since 2010.