What is the balloon molly fish price? Molly fish are top picks for your aquarium if you haven't accumulated much experience keeping fish. But what species should you pick? Is there any difference between taking care of one molly to another? The majority of molly breeds can live in various conditions, so there is a good chance you'll find one that's right for your tank. I will tell you about the 15 most common breeds and if there is any special requirement in their care.
Related Articles
Balloon Molly Fish Price
The price of mollies varies significantly according to the breeds, health conditions, colors, and development stage. But, generally, mollies aren't expensive fish, and the starting price point of mollies is around 3-5 dollars.
As for balloon molly fish price, this breed is slightly more expensive than the common mono-color ones. A tiny 1-inch balloon molly can cost at least 5 dollars. So a more mature one should be expected to be worth 7-8 dollars minimum.
15 Common Types Of Molly Fish
Alongside balloon belly molly, you can add other breeds into the tank for a better variety. Mollies live in harmony under the right tank conditions and a decent diet. So you can consider cohabitating these 15 breeds.
Balloon Molly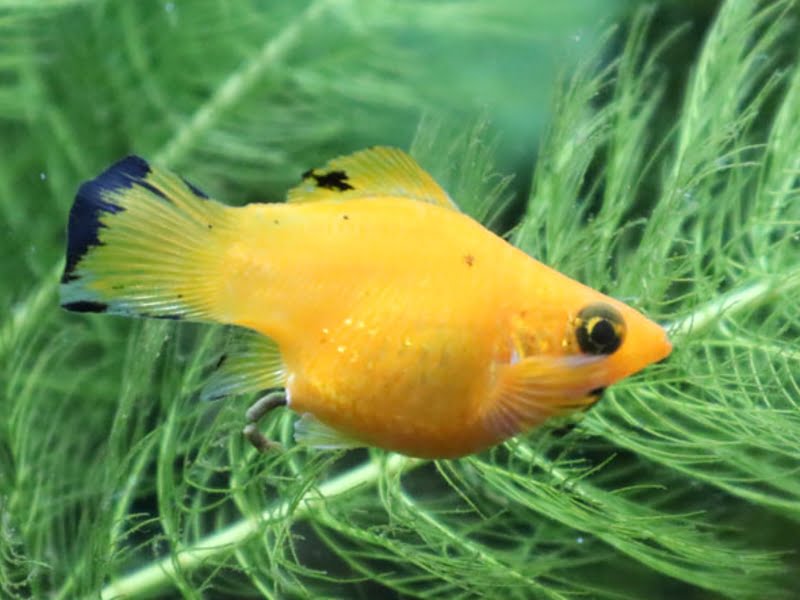 Balloon molly isn't very big. An adult balloon molly grows up to 3 inches in length, but most of them are around 2-2.5 inches only. Balloon mollies have arched backs and a plump and round belly, which explains their name. This breed needs a spacious living environment, so you should pick a big aquarium. Typically, an adult 2-inches molly needs 3 gallons of water to swim around comfortably.
They come in different colors like yellow, black, and white. Dalmation balloon mollies are more expensive than those with monotone. They also spot impressive large dorsal fins. Mollies can adapt to various salt levels within the aquarium. After a gradual adjustment, they can be kept in an aquarium with freshwater or saltwater aquarium.
Black Molly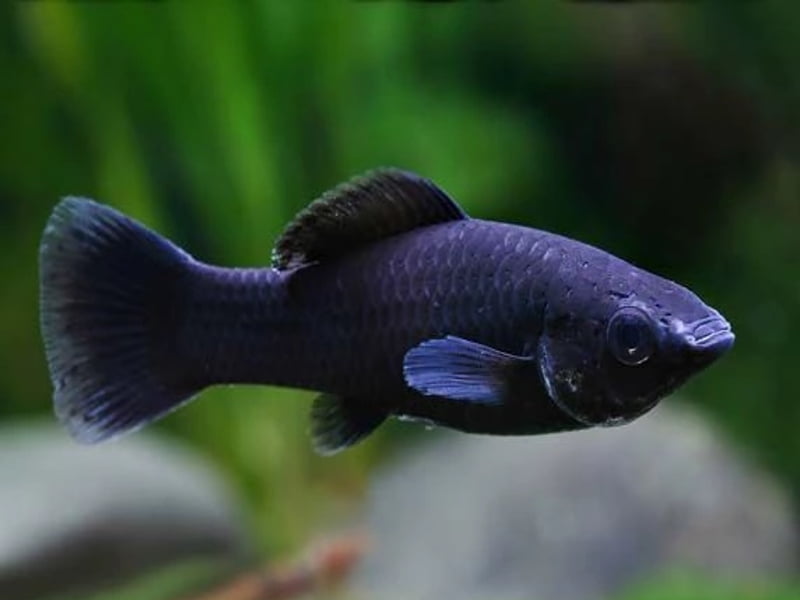 Just like their name, black mollies have a jet black color. This breed grows up to 5-6 inches, but this applies to females only. Male black mollies are around 3-3.5 inches only. Their body shape is quite slim and straight. The females sport a more prominent and bulkier belly when carrying young fries, but their bellies are almost the same as the males in normal conditions.
Black Sailfin Molly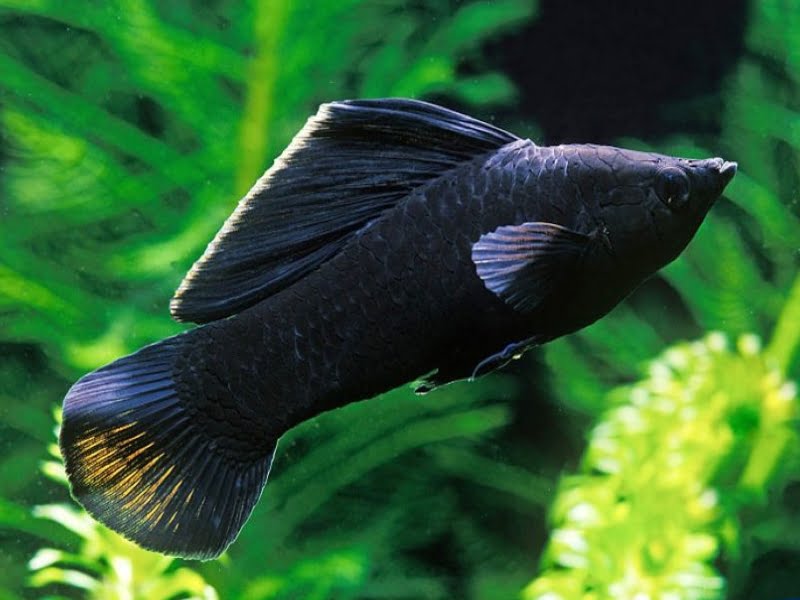 Black sailfin mollies are more expensive than other types. It requires a 68-82° F water temperature to live healthily and a large tank. This breed can get quite aggressive if they have to live in a small tank with a high population density. It's advisable to provide many hiding spots in the tank since most molly breeds feed on their fries, and the aggressive males can attack each other and cause stress to other tank mates.
Black Lyretail Molly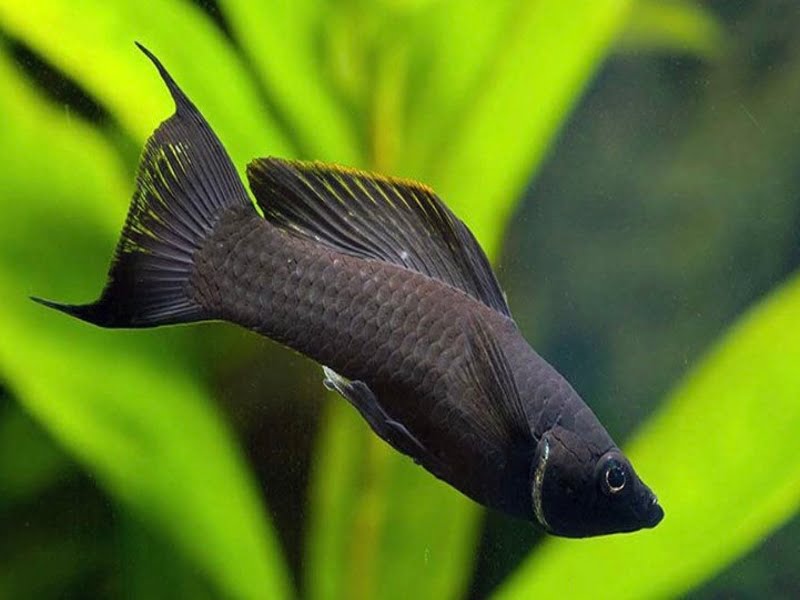 Black lyretail mollies are famous for their tail design with an elongated edge that looks flowy underwater. This breed lives in 70ºF – 82ºF water, so you will need to purchase a heater to maintain the water temperature at this same range. The max size of this breed is up to 5 inches, quite large for community fishes, so you should keep them in a large 30-gallon tank for a school of 5.
Creamsicle Sailfin Lyretail Molly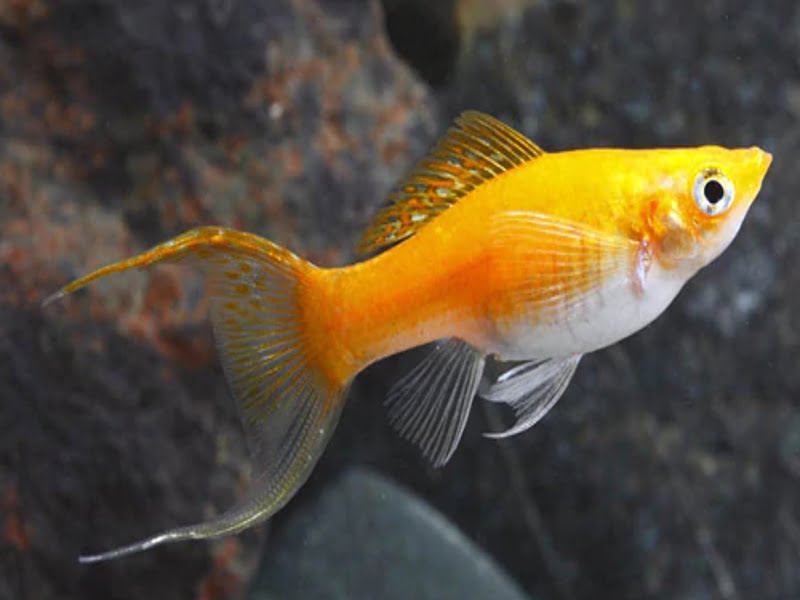 Pretty in orange-gold color, Creamsicle sailfin molly is a vibrant breed that grows up to 5 inches and is a perfect choice for your aquarium. It's famous for its golden scales with a cream-color belly. The lyretail adds flowiness to its swimming pattern, making it an absolute beauty in any tank. This species isn't expensive, and it doesn't require much care. Thus it's an easy choice for new aquarists.
Yucatan Sphenops Molly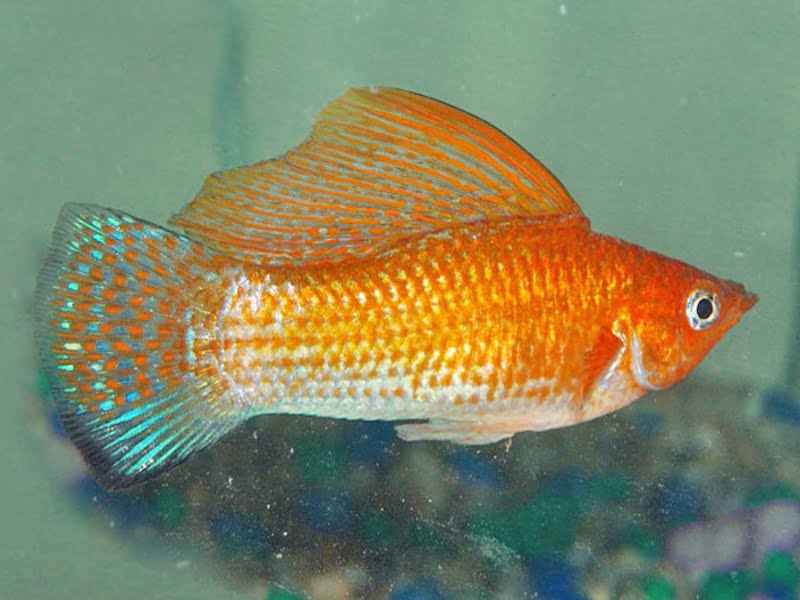 Yucatan mollies are giants in this species, and they are also one of the most extravagant ones. They come in many colors, but most are black, orange, and gold. A male Yucatan Sphenops molly grows up to 4 inches, and a female one can reach as long as 8 inches, even though it's not common. A large tank is necessary for this breed to grow and develop a stable swimming pattern.
Also, it lives in warm water temperature, which is from 72 to 86ºF. So a heater is a must, especially during winter. You can keep swordtails and guppies with this species.
Dalmation Molly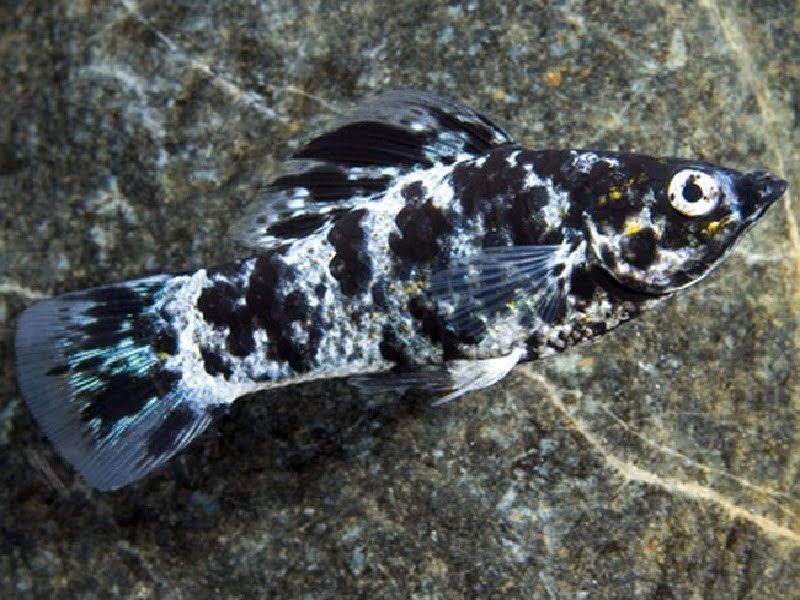 Dalmation mollies are famous for their inked appearance. These fish usually are primarily white with specks of black. This breed is fairly peaceful, so you won't have to worry about it attacking other tank mates, even though it's still more recommended to have more females than males to avoid aggression. Its diet includes vegetables and live snacks with high protein. You can feed them zucchini, lettuce, baby brine shrimps, daphnia, etc.
Dalmation Lyretail Molly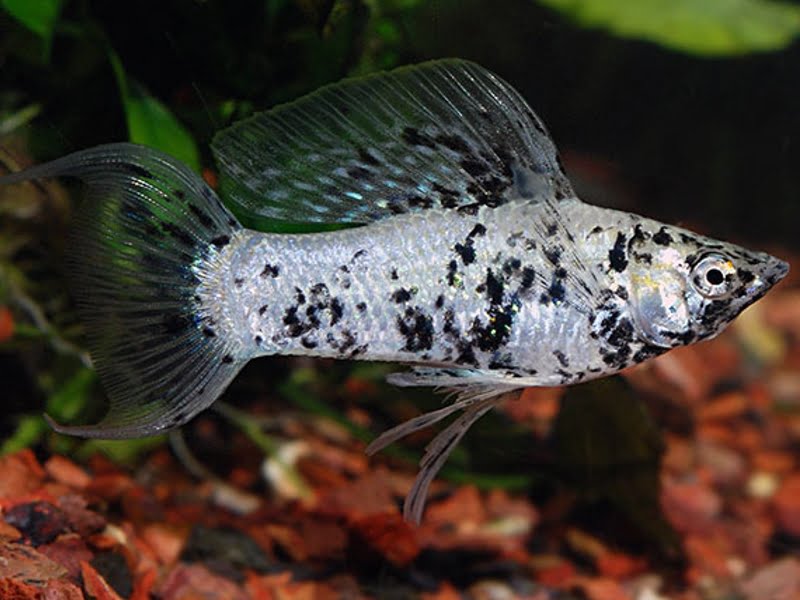 With an almost identical appearance to the one above, dalmation lyretail molly is a more favorable pick for aquarists who prefer fish with flowy caudal fin. The unique part about the caudal fins of this breed is that, apart from the lyretail shape, it has a transparent white color.
Gold Doubloon Molly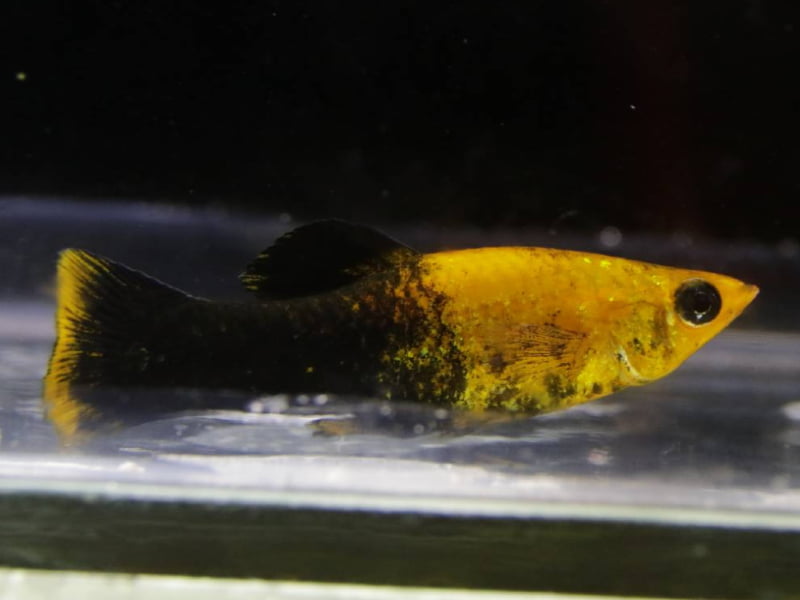 This is a common choice among aquarists, thanks to its signature black and gold colors. Gold doubloon mollies grow up to 5 inches, and they boast spectacular scale colors. Their living condition is similar to other molly types above. They need a spacious living condition to avoid developing abnormalities in their swimming pattern.
Golden Sailfin Molly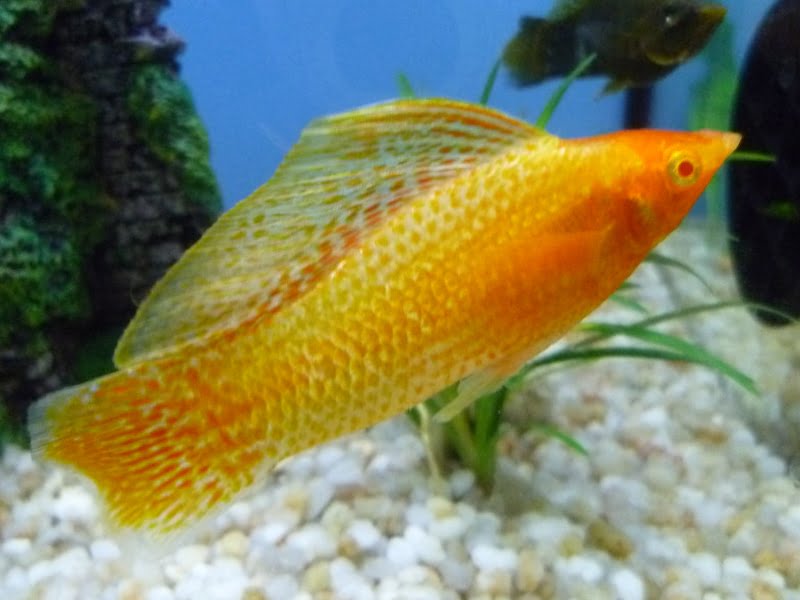 I adore this type of molly because not only its body color but also its fins are spectacular. Golden sailfin mollies boast of bright yellow body scale color that stands out in any colorful aquarium. But, the caudal and dorsal fins are the stars of the show. Due to their big surface and golden metallic specks and stripes on the fins, these fish look like they shine underwater.
Gold Dust Molly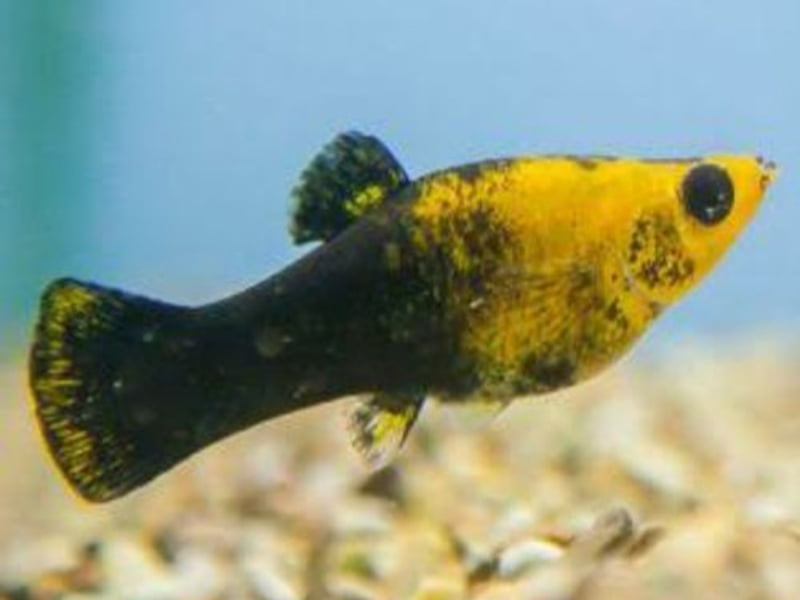 I find this breed's appearance identical to the Gold Doubloon Molly. Its size, diet, living conditions, etc., are all similar to this kind. However, I notice that the gold dust mollies have darker black scales. They look almost like they are wearing black trousers. So this is a funny-looking yet pretty pick for aquarists.
Harlequin Sailfin Molly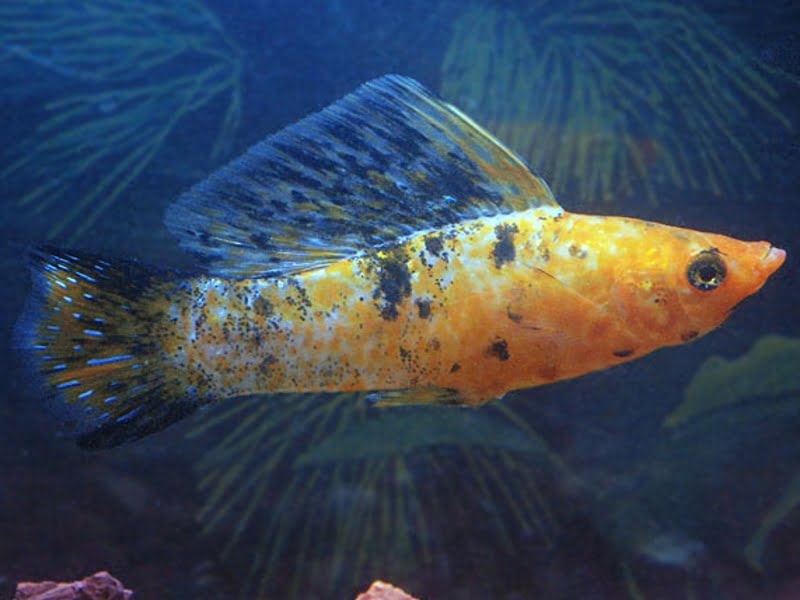 This one looks very similar to golden sailfin molly. Both kinds share the same sailfin design with lots of specks and stripes in bright metallic colors. This species can grow up to 6-inches, and on average they are about 4.5-5 inches when reaching adulthood. They also thrive best in 68-82ºF.
Marble Lyretail Molly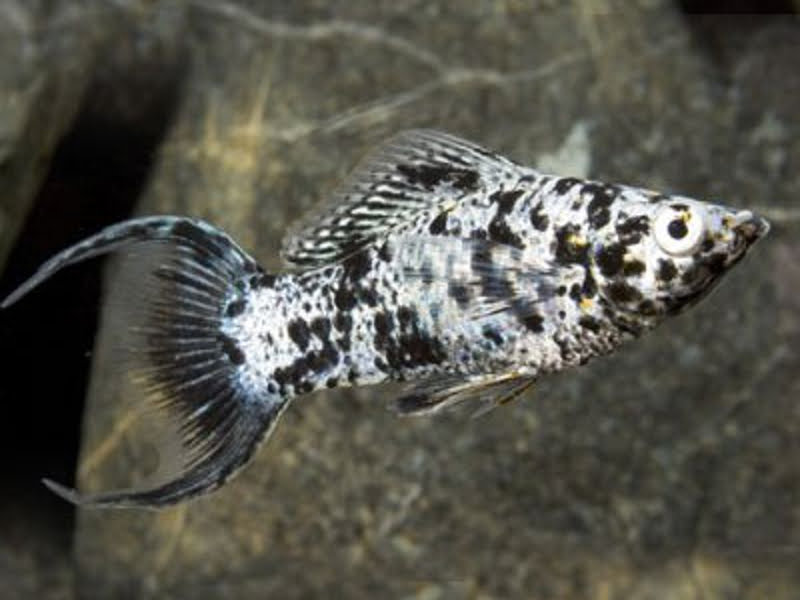 Marble Lyretail Molly is stunningly attractive, and it could develop to approximately five inches. They require a tank larger than 30 gallons and ample space to swim freely for their large dorsal fins to develop fully. This species lives in slightly salty water, so if you want to keep it with other mollies of different breeds, make sure that you check if they all can survive in saltwater.
Platinum Lyretail Molly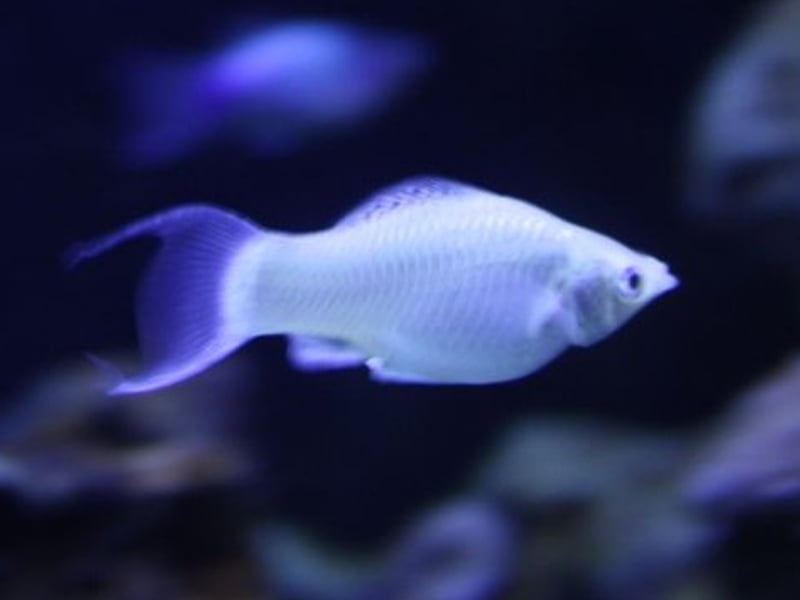 Beautiful breed with an almost white undertone and platinum metallic scales. By far, this one is the most majestic looking, and it reminds me of the moon. Even its caudal and dorsal fins have a transparent pure white shade. Due to Platinum Lyretail Molly's beautiful appearance, it's slightly more expensive than general ones. However, it's still highly affordable for any hobbyist to collect.
White Sailfin Molly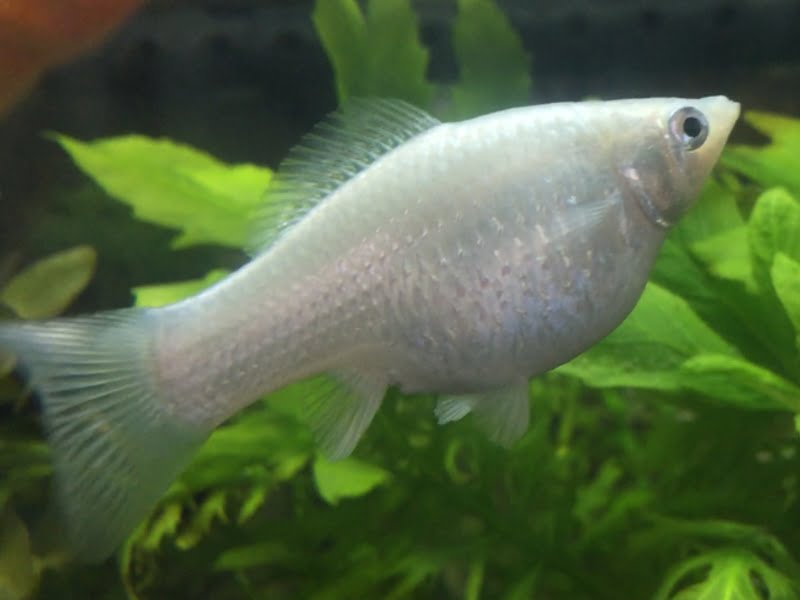 White sailfin molly is very affordable. The unique detail about its appearance is that its entire body is pure white, and there are some silver specks to add to the magical and refined look. There is no sign of dirt that ruins its fairy-looking appearance. Also, this one grows up to 6 inches and needs ample swimming space.
Video: Top 13 Beautiful Molly Fish Price
FAQS
Where should I buy balloon molly fish?
I recommend PetSmart if you want to buy a balloon molly on site. There is a good variety of balloon mollies in PetSmart for you to choose from. If you want to purchase online, I recommend Live Aquaria or eBay. It's not easy to find a store that ships live fish in the US, and the fish come in healthy.
How big does a balloon molly get?
Balloon mollies belong to the smaller side of their family. An adult balloon molly can grow up to 3 inches. The average size of balloon mollies is around 2.5 inches. It's extremely rare to find a bigger one. Personally, I haven't seen a bigger one with my own eyes.
What is balloon molly fish price in the US?
Mollies aren't expensive at all. The starting price for this species is around 3-5 dollars. Of course, young adults and healthy mollies with vibrant colors cost more due to their excellent upkeep and appearance. So it depends on the store and the condition of the fish as well.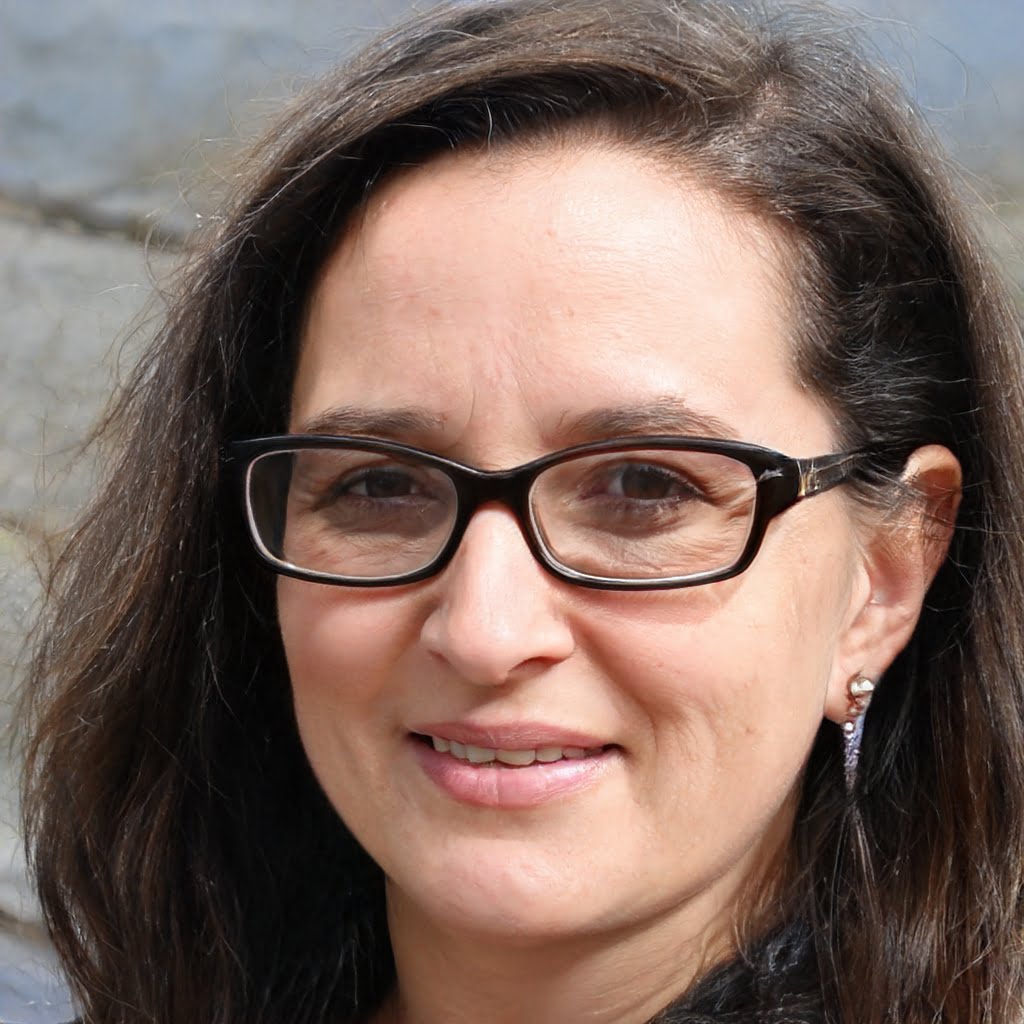 Annette M. Chaney is an experienced marine biologist with over 20 years of experience as an aquarist and fishkeeper. She started her first aquarium at a young age, filling it with frogs and goldfish obtained from the ten-cent pet store.
Annette grew up caring for and breeding African Cichlids, which led to a hobby in high school that doubled as a profitable means. Attending Reed College gave her time to solidify herself as an accomplished aquarium caretaker with an eye for sales. After that, from 2009 – 2013, she studied at Roger Williams University – one of the most prestigious universities for Aquaculture and Aquarium in USA. She is the founder of AquariumCircle since 2010.